Tutorial | Tracing a floor plan in Adobe Photoshop
This tutorial will show you how to trace the walls of a floor plan using a Fill Layer with a stroke. Fill Layers come with masks that allow you to easily add walls by simply filling selections with white (in masks white is visible and black is invisible).
Creating the walls
The images in this slide show correspond to the steps below.
Use the Rectangular Marquee Tool or the Polygonal Lasso to make a selection of a wall. Use Photoshop's grid with a lot of subdivisions to make sure you are making straight selections (50 subdivisions work well). You can find more information about Grid Settings in the tutorial Rotate and scale a scanned floor plan.
Go to Menu > Layer > New Fill Layer > Solid Color.
Choose a name for the Fill Layer and click on OK.
Choose a color for the walls, medium gray for instance. Click on OK. Alternatively you can make a Pattern Fill Layer and choose a concrete or noise pattern.
Add a stroke. Go to Menu > Layer > Layer Style > Stroke.
Set Size to 4, position to Inside and set Color to Black. Click on OK.
Make sure the background color in the Tool Palette is set to white.
Make a selection of another piece of wall using the Marquee Tool or Lasso and hit Delete or Backspace to fill your selection in the mask with white.
Repeat for the other walls.
The same technique can be used for drawing other parts of your floor plan.
Adding doors and windows
You can download some free doors and windows below. Open the doors and windows file, select the right object / layer and use the Move Tool to drag it to your floor plan. You can make copies of the layers by dragging them with the Move Tool while keeping the Alt Key (Windows) or Option (Mac OS) on your keyboard pressed.
Try to avoid using Free Transform ( Ctrl+T ) to manipulate objects more than once because it will cause a lot of quality loss.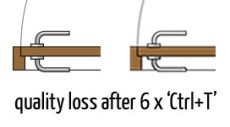 Instead use Edit > Transform > Rotate 90° CW / Flip Horizontal / Vertical. You can set shortcuts for these commands in Menu > Edit > Custom Shortcuts.
If you have questions feel free to drop us an email using the contact page.
Happy Planning,
Plan Symbols