Classic Furniture add-on
Recreate an elegant classic look with elaborate decorated rugs, stylish decorative objects and timeless furniture. The Classic Furniture add-on offers you the assets you need to give a floor plan grandeur.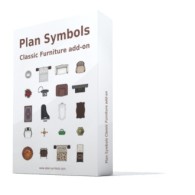 File types: .psd and .png
Resolution: 300 dpi
Scale: 1 to 25 and 1 to 50
Direct download
The symbols are drawn to a scale of 1 to 25 at 300 dpi in Adobe Photoshop. Also added is a copy of the collection at scale 1 to 50. For import in other programs there is a copy of the collection as .png files.
After purchase you will receive a download link by email. Shipping is optional and will include an additional shipping fee.
 The Classic Furniture collection is an add-on. The example scenes above are not included in this collection and are rendered by combining elements from the Basic Collection and this Classic Furniture add-on.
To test the files you can download these free samples: